I wanted to take a little time to link to two sites which I think are excellent for different reasons. I don't think that either of them is particularly well-known, but they should be.
The first is the
newsmap
at marumushi.com. Here's a screenshot (click to view a larger version):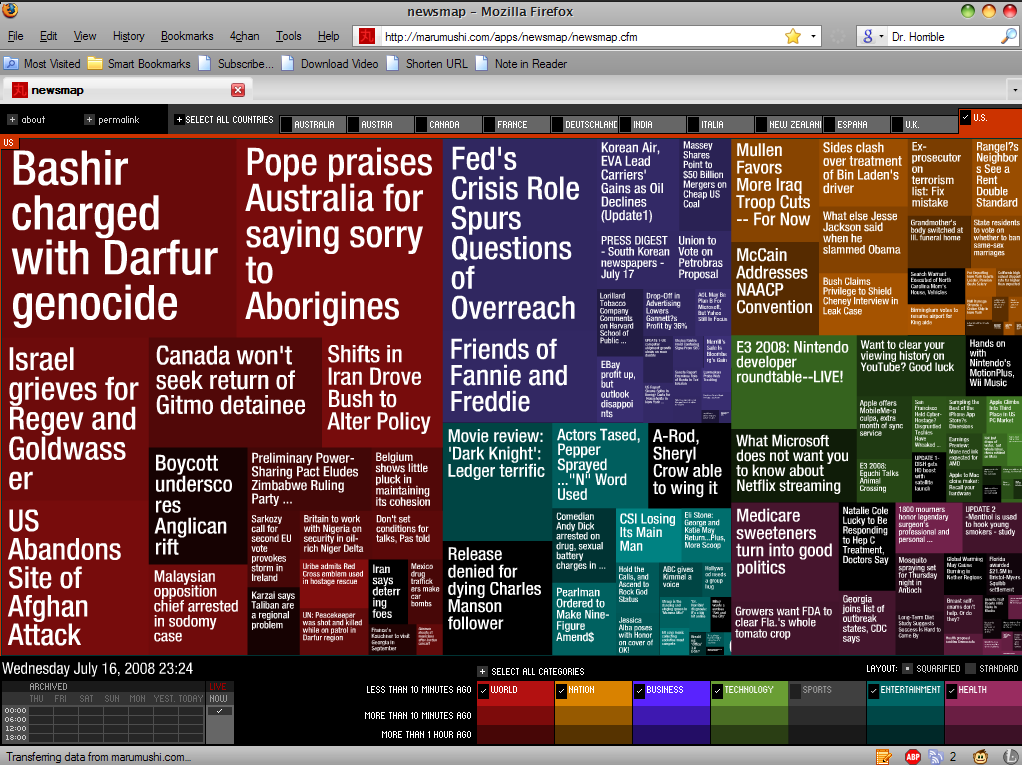 As you can see, stories are laid out according to categories in boxes of varying size. The size of each box indicates how many stories have been written about the subject, giving "bigger" news more on-screen real estate. Don't worry, though: position your pointer over even the tiniest of stories, and a box will appear with the full headline and a small portion of the article. The color-coded categories can be turned off and on again by ticking the checkboxes in the lower right portion of the screen. There are more neat little things to discover about the interface, and each one actually adds something to the page while maintaining ease of use. It's quickly becoming my favorite way to browse headlines.
The second site I wanted to bring to your attention is the LiveJournal of
Ted Prodromou
. Ted is a friendly acquaintance of mine who writes top-notch fantastic and speculative fiction. He recently had one of his stories published by the online magazine
Strange Horizons
, and it's well-deserved. Each day, Ted writes a quirky, amusing little snippet for his journal. Topics have included his evil robot twin, kinesthesia, justice, and translating tax codes into ancient Assyrian. There's a very nice archive of entertaining stories by now and on top of it all, Ted is a really great guy, very smart and quite friendly. Go visit his journal and get to reading!